Aménageons le parc du château Thibaut
A participatory process is a sequence of participatory activities (e.g. first filling out a survey, then making proposals, discussing them in face-to-face or virtual meetings, and finally prioritizing them) with the aim of defining and making a decision on a specific topic.
Examples of participatory processes are: a process of electing committee members (where candidatures are first presented, then debated and finally a candidacy is chosen), participatory budgets (where proposals are made, valued economically and voted on with the money available), a strategic planning process, the collaborative drafting of a regulation or norm, the design of an urban space or the production of a public policy plan.
About this process
Raismes a pour ambition de réaménager le parc du château Thibaut.
Un projet participatif
Soucieuse d'impliquer la population dans cette transformation, la Ville de Raismes a recueilli ses attentes et ses besoins. Des informations précieuses sur lesquelles les entreprises missionnées se sont appuyées pour imaginer le projet.
Les grandes lignes du projet
Plusieurs espaces seront créés pour permettre à chacun d'en profiter selon ses envies. La grande pelouse centrale donnera l'occasion aux familles de pique-niquer, aux enfants et aux adolescents de s'amuser. La terrasse deviendra un lieu de rencontre et de convivialité. Le belvédère, quant à lui, sera dédié à la détente avec ses bains de soleil.
L'aire de jeux pour enfants (3-12 ans) sera plus grande qu'à l'heure actuelle et clôturée.
Le parc donnera une large place au végétal avec la création d'îlots de fraîcheur, la plantation d'arbres d'essences locales parmi lesquels des fruitiers pour davantage de biodiversité, la création de plates-bandes champêtres avec fleurs mellifères...
Une aire de stationnement va être tracée dans un écrin végétalisé. Le revêtement sera enherbé.
De nouvelles liaisons piétonnières permettront de relier facilement le parc et la Grand'place.
Le parc sera sécurisé grâce à la présence de clôtures à ses pourtours. Des horaires d'ouverture seront fixés.
Le projet est subventionné par la Région Hauts-de-France.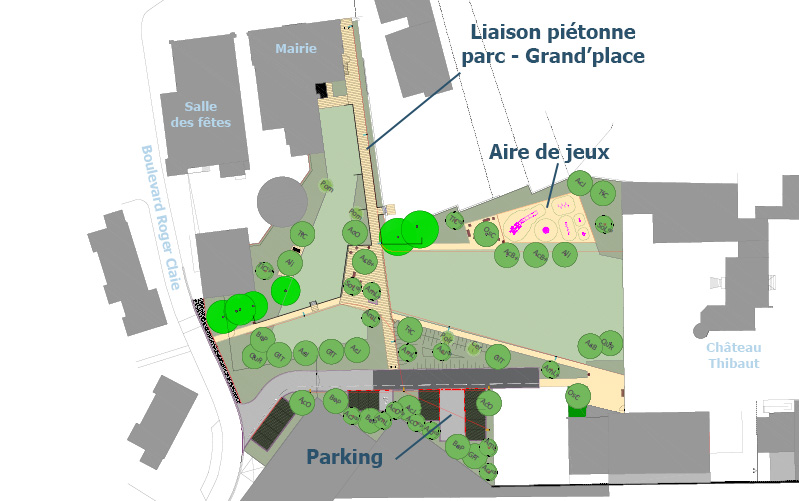 What is decided
Imaginer le parc de centre-ville de demain
Who participates
Riverains du Parc et tous les Raismois.es
Promoter group
Ville de Raismes
Start date
April 16, 2022
Reference: Raismes-PART-2022-05-19